Clear your calendar for our 40th High School Reunion!
Friday September 6 – Sunday September 8th!
Please join in some or all of the events!
Rumor Has It that this group is reuniting!
Purchase your ticket to the Maine Event today and find out 9/7!
Friday September 6th morning/ early afternoon: : For those seeking a high fun quotient, we'll be sponsoring a Scramble Event golf tournament to start out the festivities at the Fox Run Golf Course in Elk Grove.
Tee Times limited to the first 20 players who sign up between 9:04 – 9:32 am .
Come one come all the more the merrier. Spouses are welcome. Golf team members Steve Zilleox and Gary Struck are coordinating the big hitters. If you're interested, drop us a note right now and let us know. Be sure to check the Golf Tournament checkbox!
September 6th Lake Opeka Morning Golf:
For those of you "Non-Golfers" just looking for some fun and guaranteed laughs, we will be hosting a golf event at Lake Opeka in Des Plaines. Tee Times begin at 9:00 a.m. We have spots for 24 players so sign up quickly. Spouses are welcome! The cost will be $18.00 per golfer. We won't be able to compete with the Pro's (Steve Zilleox and Gary Struck) but we will have fun and will definitely be sending the golfers at Fox Run Golf Course some pictures!
If you are interested please contact me (Kelly Jones-Thomas) directly at Cosmo1206@hotmail.com.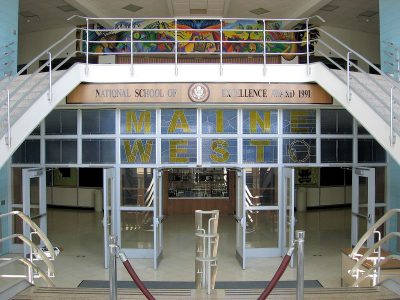 Friday September 6th from 4-6pm: Tour the halls of Maine West High School. Meet at the Main Doors. Check on your locker and that secret stash you were sure no-one would ever find. There will be a post tour reception prior to the game in the picnic area (see larger circled area, closer to school, in image below).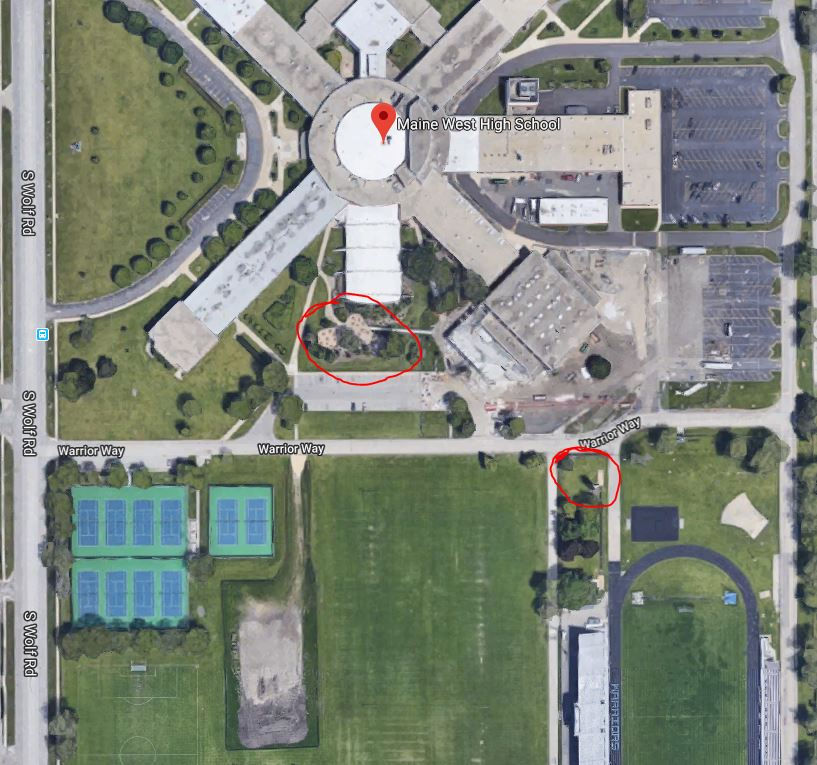 Friday September 6th at 7pm: Hold down a bleacher seat in the football stadium to cheer on the Warriors at their first home game.
Friday September 6th post-game: Barnaby's! Join your old friends at our old hang-out! For those of us who barely remember where things in DP are anymore, Barnaby's address is 636 E Touhy Ave, in Des Plaines. Party at The Beacon Tap after that! See you there!
Saturday September 7th morning: The MW Class of '79 is offering a fun project to Give Back on Saturday morning, September 7th. Get together with some of your old pals and help out at "Feed My Starving Children"! "Feed My Starving Children (FMSC) is a Christian non-profit that provides nutritionally complete meals specifically formulated for malnourished children. Click here to read more and get signed up!
The Maine Event Saturday Evening September 7th

The Reunion Committee has decided on Cafe La Cave, at 2777 Mannheim Rd, in Des Plaines as our location for the big Saturday night event, you may remember this venue as one of Des Plaines' finest. The shuttle from the Hilton Hotel will be ready to leave for Cafe La Cave at 6:45pm and will be back at the restaurant at Midnight to pick up those they dropped off.
The event will run from 7pm until midnight. The evening festivities commence at 7pm with 'cash bar' accompanied by the baby grand piano in the Cafe la Cave Ballroom. The rest of the schedule for the evening is: Open Bar 8-10pm; Food Stations 8-10:30pm; and a cash bar from 10-midnight.
Food Stations: Pasta Station including Penne pasta with bay scallops and crab, Linguini or Fettuccini tomato basil sauce and authentic Italian meatballs, and Tomato bread with assorted cheeses, olives, and roasted red peppers.
Prime Rib Station including Carved beef with silver dollar buns, au jus, horseradish cream and Sauteed wild mushrooms, grilled vegetable tray, shoestring potatoes, and onion straws.
To wind down the evening, a magnificent selection of sweets will accompany the 'cash bar' from 10pm until midnight. Be prepared to dance the night away from 8-Midnight.

Tickets on sale now! Click the Ticketbud logo above to purchase!
Advance tickets are $80 per person with the price jumping to $90 per person on August 7th. There will be a limited amount of tickets for this event so order early!
Sunday September 8th, 10:30am: Recovery Vinyasa Yoga – followed by Pilates at 12noon! Both held at the Twisted Tree Studio – 681 Graceland Ave in Des Plaines.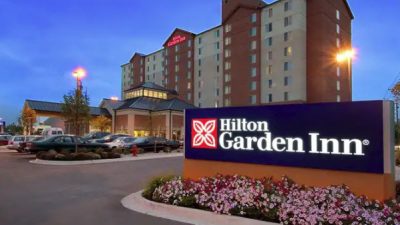 Hotel Information: We have reserved a block of rooms at a discounted rate at the Hilton Garden Inn, 2930 South River Road in Des Plaines. 1-847-296-8900.
Room Rates are $109.00/night +taxes, for either 1 King Bed or 2 Queen Beds
Shuttle(s) to Cafe La Cave will be ready to leave for Cafe La Cave at 6:45pm and will be back at the restaurant at Midnight to pick up those they dropped off. (Registered Guests only)
Swimming Pool, Hot Tub and Exercise Room
Complimentary Breakfast coupon and Casino Voucher
Complimentary parking
Cash Bar open until 2am
Reservations open now and end August 12th (If you miss the booking date, you can still take advantage of the rates by calling the Hotel, but it will be subject to room availability) Click here to reserve your room today!

Read our Latest News Below!